Cy Twombly
June 8 – September 29, 2017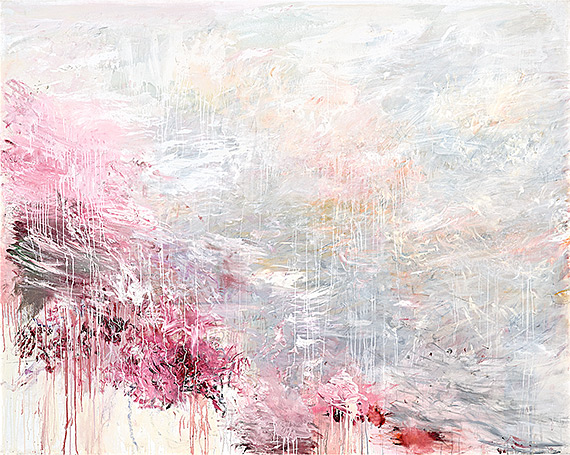 Hero and Leandro (To Christopher Marlowe)
1985, Rome
oil paint, oil based house paint on canvas
79 1/2 x 100 inches, 202 x 254 cm
Bastian, Vol. IV, no. 26
Private Collection
© Cy Twombly Foundation

After the magnificent and highly successful retrospective at the Centre Pompidou (October 2016 to April 2017), we are delighted to inform you about our Cy Twombly exhibition. The show in Paris – in collaboration with the Cy Twombly Foundation, New York and the designated custody of its president Nicola del Roscio – was the first comprehensive overview of his work since his death in 2011 and with all its convincing exhibits clearly proved that Twombly was one of the truly distinguished artists of the twentieth century, leaving an oeuvre marked by an astonishing freshness, superb energy, and passionate presence. His art is filled with his favorite poets and painters, as well as with references to history, art history, and mythology. His works are full of mysterious signs of hazy scribbles and enigmatic curlicues that evoke timeless beauty, sadness and transitoriness, and always include a deep sense of humanity and idealism.
Our exhibition that will include generous loans by the Cy Twombly Foundation, the Daros Collection, and important private collections revolves in particular around the tale of Hero and Leander, a tale from Greek mythology which deeply absorbed the artist in the 1980s. The four-part cycle of paintings in the exhibition, Hero and Leandro (1981–1984), is visually freed of all mythical themes and historic references to open up a lyrical space of pure painting with a sensitive impasto color application, as is found in French painting of the eighteenth and nineteenth centuries and in certain aspects of the Impressionism that followed. Likewise in the painting Hero and Leandro (To Christopher Marlowe) (see above) from 1985, Twombly transformed the dramatic love story (in which Leander's death by drowning prompts Hero's suicide) into a sensitive rush of colors. "The more we lose ourselves in this painting, the greater does its reality withdraw from memory; becoming one with a timeless monotony refracted and, in a way, rescinded by the watery shimmer. Thus Hero and Leandro is also a work utterly about mood and atmosphere, a landscape of transitive identity giving voice to the myth in a present verging on the elegiac." (Heiner Bastian, Cy Twombly, Catalogue Raisonné of the Paintings, Volume IV, 1972–1995 (Munich: Schirmer/Mosel, 1995) p. 30).
Our summer exhibition, Cy Twombly, is on view from 8 June to 29 September 2017 and open every week from Monday to Friday, between 10 a.m. and 5 p.m. In addition, the exhibition can be viewed on Saturday 10 June, and during Art Basel 2017 on Saturday 17 June, from noon to 5 p.m. A catalog with full-page reproductions of all the exhibited works and an essay by Heiner Bastian will be available at the gallery from the beginning of September.
For further information and photographic material please contact Claudio Stefanutto: Tel. +41 44 360 51 60, email: cs@ammannfineart.com

Georg Frei, Senior Partner, Curator of the Show

Cy Twombly
Tatia's Lens – The Rhythm of Thought
June 8, 2017 – September 29, 2017
Exhibition curated by
Caio Agosto Twombly

Cy and Tatia were both avid outdoorsmen in their youth and during 1961-1962 they spent time together touring Italy (mainly) and Greece.


For Cy, these trips didn't solely hold the purpose of relaxation and isolation – but were mainly an expedition to retrieve sensation and find appeasement with a land that would soon adopt him. Tatia's extraordinary sensibility was proven by capturing Cy's most natural and intimate inner moments.


It would appear difficult to capture the artist during full throttle of thought, aloof from distraction, however, Tatia's acute stealth managed to capture Cy between thoughts, preluding his approach to the canvas.

Caio Agosto Twombly, Curator of the Show, June 2017


Photos: © The Twombly Family

The show is on view from 8 June, 2017 to 27 april, 2018 and open every week from Monday to Friday, between 10 a.m. and 5 p.m. A catalog with full-page reproductions of all the exhibited works and an essay by the curator will be available at the gallery from the beginning of December. For further information and photographic material please contact Patrizia Solombrino: Phone +41 44 360 51 60, e-mail ps@ammannfineart.com